Business Phone Solutions – Three Endpoint Options and How to Use Them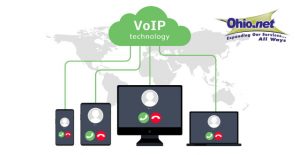 Now, more than ever, companies are managing a mobile workforce. This means a phone system that can keep up is imperative.
In the past, companies with employees working together in the same location only needed one simple solution to accommodate all users. But today, we see options with greater flexibility to keep modern businesses moving.
Endpoint Options
Endpoints are simply the chosen technology companies use to facilitate their communications. Think of it as the way your customer connects with someone on your team. The most common endpoint used to be the desk phone. Today that is changing.
Option 1 – Hardware (AKA the Desk Phone)
Most of us are familiar with the desk phone, usually integrated with a VoIP system. The most common brands on the market are Cisco, Polycom, and Yealink.
The VoIP system translates analog data into digital data that is then sent via the internet. It's an efficient and cost-effective way to communicate.
Of course, as companies increase the ways their employees get the job done, endpoint options have also increased. A desk phone makes sense when the team is onsite, but not as much when employees work remotely or utilize a telecommuting option.
Option 2 – Software Solutions
The software option is perhaps the most versatile option for businesses today. For example, companies like Zoiper provide easy use and integration, whether employees use Windows, macOS, or Linux. When coupled with Ohio.net VoIP service it becomes a flexible, powerful tool.
Take the challenge of contacts alone. Employees often have a database for business connections and their own personal database that may include professional contacts they've entered when out of the office. SoftPhones like Zoiper integrates multiple databases seamlessly and runs on various platforms. That means employees who utilize laptops, cell phones, tablets or other devices will be able to connect with customers no matter where they are or what they're using.
Option 3 – Cell Phones
A great choice for businesses already covering the cost of cell phones for employees is simply to use them and skip in-office hardware. Not only does making this move reduce bulky phones in a workspace, but it also cuts costs. For organizations that don't have brick and mortar locations or a fully virtual team, this is a great solution.
You can often use cell phones with your existing VoIP provider. Be sure they offer remote management and ask about integration set-up costs, as well as ongoing fees. Before making the switch completely, it's good to outline usage guidelines and complete a security assessment. Much like your laptop, VoIP is vulnerable to the same threats when utilizing any public WI-FI.
You can learn more about integrating mobile phones with your VoIP system here.
Next Step – Discuss Your Endpoint Options
And if you're ready to discuss any of the endpoint options listed above, give us a call.
We'd be happy to help you get started with a solution that works best for your business, employees, and customers. You can reach us at 888-881-0805 or adesberg@ohio.net.