Non-Profit Organizations (NPOs) play a pivotal role in addressing social and humanitarian causes, driven by their unwavering commitment to making a positive social impact. Operating without the pursuit of profits, these organizations focus wholeheartedly on fulfilling their noble mission. In this pursuit, technology becomes a vital ally, empowering entire organizations to operate more efficiently and effectively in their quest to achieve meaningful goals.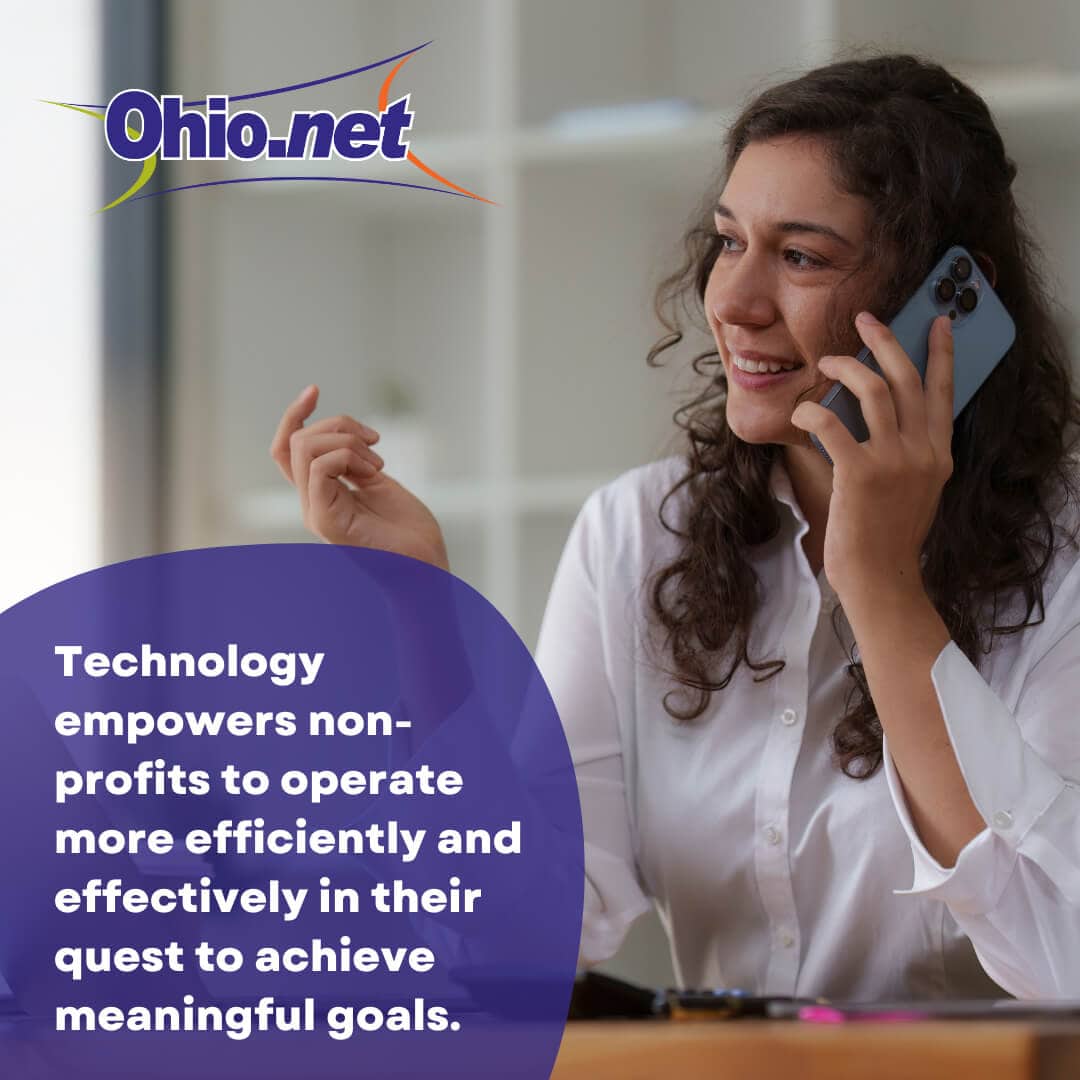 Empowering Non-Profits with Technology Support
Investing in the right technology is pivotal for your non-profit's triumph. It simplifies operations, enhances efficiency, and fosters seamless communication, empowering you to remain devoted to your mission and create a lasting positive impact. Beyond that, the right technology entices and retains skilled staff, projects a contemporary image, and draws in donors and supporters.
Moreover, adopting suitable technology elevates data management and analysis, offering invaluable insights for informed decision-making and strategic planning. Embracing technology keeps your organization ahead of the curve and ensures more impactful goal attainment.
At Ohio.Net, we are dedicated to supporting non-profits by providing them with the tools they need to thrive. We offer a range of tech solutions, including legacy telephone service integration, SIP trunking, hosted service, and cloud PBX. Whether your non-profit organization wants to integrate its current phone system or utilize existing internet service, our experts at Ohio.Net can direct you to the correct service.
Wildix: Secure. Flexible. Mobile.
Is your NPO searching for a communication system that focuses on teamwork, managing leads, and boosting sales? Wildix's suite of products is the answer you've been looking for. Technology has revolutionized the way non-profit organizations operate, and our completely secure solutions are specifically designed for businesses of all sizes, from small teams of 2 to large organizations with up to 1,000 employees. With our products, you'll enjoy unmatched flexibility and the freedom to work from anywhere.
Transform Your Communication and Boost Efficiency
Communication is important in any organization. Poor communication can cause problems like lost sales, wasted time, and employee frustration. But it doesn't have to be this way. With the right non-profit tech tools for your organization, like Wildix, you can improve communication and collaboration, leading to growth and success.
Benefits That Make a Difference
Boost Efficiency by up to 25%: For non-profits with limited resources and staff, efficiency is crucial. Wildix's suite of products streamlines communication, enabling your team to work together seamlessly and make data-driven decisions. Real-time collaboration tools facilitate smooth information sharing among team members, leading to quicker response times and more efficient project management. By improving operational efficiency, your non-profit can allocate more time and resources to your mission, maximizing the positive impact you have on the community you serve.
Increase Sales by up to 52%: Non-profits heavily rely on donations and fundraising campaigns to support their initiatives. Wildix's lead management solutions empower your organization to nurture donor relationships effectively. By understanding donor behaviors and preferences, you can tailor your communications to resonate with their interests and motivations, increasing the likelihood of continued support and contributions. With Wildix, you can create personalized campaigns to engage donors and volunteers, fostering a strong sense of community and loyalty to your non-profit's cause and allowing you to focus on donor relationship management.
Secure, HIPAA-compliant Phone and Fax Services: Non-profit organizations often handle sensitive data related to their beneficiaries and donors. Ensuring the security and privacy of this information is crucial for maintaining trust and compliance with legal regulations. Wildix's 100% secure and HIPAA-compliant phone and fax services provide peace of mind, knowing that your communication channels are protected from potential data breaches and unauthorized access. By safeguarding confidential information, your non-profit can build trust with your stakeholders, including donors, partners, and the communities you serve.
Smartphone-Friendly Solutions for Easy Communication On-the-Go: Non-profit work often involves engaging with communities, attending events, and being on the move. Wildix's smartphone-friendly solutions enable your team to stay connected and collaborate seamlessly even when away from the office. With the flexibility to communicate and access critical information from any location, your non-profit can respond promptly to opportunities and challenges, ensuring you can make the most of every moment to advance your mission.
Features That Enhance Collaboration
Conferencing and Webinar Solutions Built into Your Phone System: Non-profits often need to connect with donors, volunteers, and other stakeholders who may be geographically dispersed. Wildix's conferencing and webinar solutions allow you to host virtual meetings and events effortlessly, promoting collaboration and knowledge sharing. By reducing the need for in-person meetings, your non-profit can save time and resources while still fostering meaningful connections and community engagement.
Solutions to Manage and Convert Leads: For non-profits seeking to expand their donor base and impact, effectively managing and converting leads is critical. Wildix's lead management solutions provide tools to track interactions with potential donors, automate follow-ups, and customize communications. By nurturing leads through personalized engagement, your non-profit can build lasting relationships with supporters, leading to increased contributions and a more sustainable impact on your cause.
Real-Time Collaboration Systems: In the fast-paced world of non-profit work, real-time access to information is invaluable. Wildix's suite of products ensures that your team members can collaborate efficiently, exchange ideas, and make informed decisions based on the latest data. By empowering your staff with up-to-date insights, you can respond quickly to emerging opportunities and challenges, enabling your non-profit to be more agile and adaptive in achieving its mission.
Web Browser-Based Collaboration Tool (Soft Phone): Non-profit organizations often have diverse teams, including remote workers and volunteers. Wildix's web browser-based collaboration tool, the Soft Phone, enables seamless communication across a wide range of devices, including Chromebooks, Macs, and PCs, without the need for additional software installations. This flexibility allows your non-profit to onboard team members and volunteers quickly, ensuring they can contribute effectively to your mission from any device and location.
Choose Wildix!
Ohio.Net and Wildix offer support to non-profit organizations. They have products that help these organizations communicate securely, flexibly, and on the go. Collaboration, lead management, and sales are prioritized by Wildix. We aim to empower non-profits to have a positive impact on society in a more efficient and effective way. Technology solutions have a transformative impact on non-profits, enhancing efficiency, collaboration, and outreach. With the help of Ohio.Net and Wildix, organizations can fulfill their mission and create positive change in the world.
Key Takeaways:
Non-Profit Organizations' Purpose: NPOs are dedicated to social and humanitarian causes, prioritizing positive societal impact over profits.
Importance of Technology: Investing in the right technology is essential for non-profit success, enabling streamlined operations and improved communication.
Wildix's Technology Solutions: Wildix offers secure, flexible, and mobile communication solutions designed for non-profit efficiency and growth.
Enhanced Efficiency and Sales: Wildix's suite of products can boost efficiency by up to 25% and increase sales by up to 52%, empowering non-profits to focus on their mission.
Collaboration and Real-Time Access: Wildix's solutions promote collaboration, lead management, and real-time access to information, making non-profits more agile in achieving their goals.
Ohio.net is Here For You
Is your non-profit organization looking to improve its communication and collaboration? Take your organization to new heights with Ohio.Net and experience the Wildix Difference. Reach out today and discover the transformative power of our services.