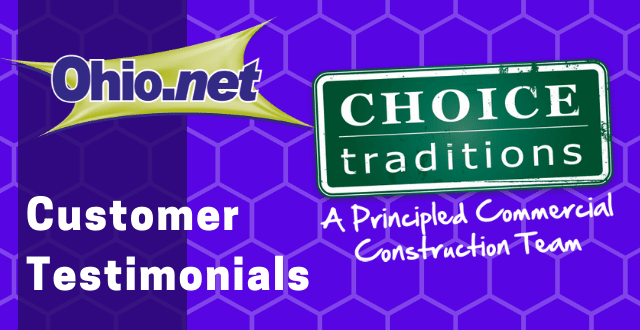 The highlight company of this week's Ohio.net Customer Testimonial is Choice Traditions.
Choice Traditions is a commercial GC focused on small and big box construction and renovation projects. We took Choice Traditions from a cell-phone-only communications to a fully functional office phone system customized to meet the needs of a team on the go.
We sat down with Matt Soful from Choice Traditions to discuss their Ohio.net choice, experience, and service. Watch the videos to see what they had to say!
1. What factors lead you to choose ohio.net for your phone service?
2. Why did you think you needed a change of phone system?
3. Was there anything that surprised you about Ohio.net's service?
We were happy to provide the best solution to maximize the effectiveness of Choice Traditions' communications, both internally with their employees and externally with their customers.
Interested in learning more about Ohio.net's capabilities?
We're ready to talk. Schedule a demo and personal consultation with a representative: 888.881.0805 or Contact Us.