Voice over Internet Protocol (VoIP) implementation is becoming a mainstay in the business world and for good reason. VOIP services and calling features, are cheaper, more efficient, and have higher sound quality than traditional analog calls. Plus, many VoIP plans often include several business-ready features that cannot be achieved using traditional services.
Small businesses who take advantage of a VoIP system not only save money but also improve their image to the public. Below, learn the 5 best ways that small businesses can utilize business VoIP to impress their customers and grow their business.
Capacity
One of the biggest perks of a VoIP phone system is its capacity for unlimited phone phones and features on the same platform.  VoIP calling does this by utilizing a VoIP-enabled Private Branch Exchange (PBX), which connects outside calls to a robust system. With VoIP, call routing time of day features and unified communications can occur simultaneously without impacting system resources. Long gone are the days of busy signals, missed voicemail and potential customers lost due to tied up phones or misdirected calls.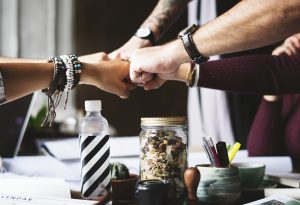 Flexibility
Adding services, reconfiguring phones, or adjusting call routing is simple with VoIP PBX system. VoIP allows your small business to have the exact configuration that it needs. VoIP extensions can be changed online with just a few mouse clicks, allowing your company to grow seamlessly and have a phone system that will assist in that growth.
VoIP Allows Your Employees to Be Mobile
Small business owners and employees wear many hats and are often out and about running errands. VoIP allows for you to never miss important calls or leave important customers unattended. Calls made to the office can be forwarded directly to a cell phone and your customers will never know the difference. Being available 24/7 is a feature that customers greatly appreciate as well, which in turn helps the company's brand image.
IP Faxing
Many small businesses still require fax to send important information to business partners or customers. The great thing about VoIP is that you can still send faxes without needing to maintain the expensive fax machine. With VoIP, you can have your emails translated into faxes quickly and efficiently. Over time this also saves small businesses significant money on toner, paper, and electricity and traditional landlines previously used to maintain and operate their fax machine.
Native Features
Many valuable features inherent to VoIP systems are not offered with traditional analog business phone systems. Find-me/follow-me features, automated call routing, and conference calling are native to VoIP technology. So, the provider doesn't have to incur and pass on the expense of such services to you. Other features include:
Mobile apps
Call-recording
Easily accessible call reporting and tracking
Web integration and management
Voicemail to email
VoIP phone plans allow small businesses to look like big businesses. With all of these features available for lower rates than traditional phones, companies can afford to utilize VoIP to improve customer service, scale their business, and bolster their brand image. Click the button below to get started with Ohio.Net and will be in contact with you shortly.