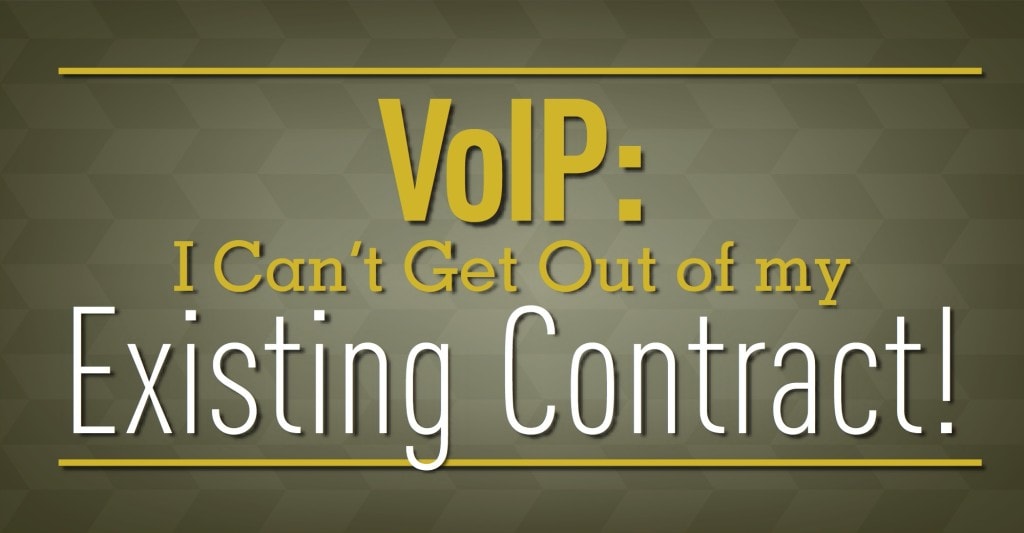 You want to upgrade your phone system. You have the budget. You have the go-ahead. You know what you want, technology-wise, for your business. There's just one problem. You're locked into a contract with a phone service provider! Luckily, it's not the end of the world. Depending on the stage of your current contract, there are several things you can do.
Scenario 1: The Long-Term Contract
If you've been in a long-term contract that is reaching the end, you're in luck. This gives you planning time, first of all, to make sure that your office is ready for deployment of a new phone system. Ohio.Net will work with you to make sure everything is ready to implement your new service with minimal downtime and hassle. If you don't want to wait, you can check with your existing phone company to see if they will let you out of your contract a little early. You've been a good customer, so it's not out of the question. Finally, the cost to cancel could be negligible, given the low cost of implementing your new system and the money you'll save by switching to an upgraded phone scenario. So, it never hurts to look at that option as well.
Scenario 2: The Ink Is Still Wet
You're either new to the company or new in your role, and a new contract was just signed. All is not lost. Some states have a "cooling-off" period that allows business purchases to be canceled in three to five days. If that's not an option, it doesn't hurt to call your new provider and ask to be released. In the worst-case scenario, contact a lawyer. There is likely a way to cancel the contract, and if there isn't, Ohio.net will be waiting on the other side when it's done.


Scenario 3: Smack In the Middle
It happens. You do the research, find the service you want, but you're right in the middle of a contract and there's still a year and a half left. There are options in this situation, too. Talking to your current provider might help. If they are not able to provide the technology and services your business requires, they might waive some of the cancellation fees or let you out altogether. In certain situations, your new provider (that's us!) might be able to buy out your existing contract. If none of these do the trick, you can start implementing new technology and services as you're able within your existing contract, and when it's finally time to switch, you'll be ready to go.
No matter what your situation, Ohio.net wants to work with you. Schedule a call with us today to find out how we can help you – even if you're in a contract with another provider.