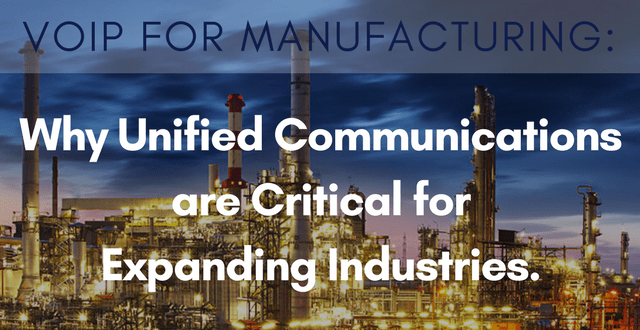 Your growing manufacturing company may require you to expand geographically, increasing your capabilities and service your diversely-located customers. While growth and expansion are always a good thing, it can come with some challenges. Remote industrial locations often need to reliably communicate across their network to ensure operations run successfully.
VoIP communication systems allow plants to obtain an internal form of communication, even with geographic obstacles.
But just how can it do that?
Linking Locations Together
When companies grow, they typically do so in one of two ways: acquisition or organically. Acquisition can come with a lot less hassle – and less time! – due to purchasing a ready-to-use building for operations. However, often this comes with utilizing the previous building's phone services out of convenience. This may not always be the best case scenario.
If the previous owners were using a local phone company connection, you are going to run into some issues if you want to connect your locations. Your new manufacturing plant, now fully ready for production, might not be able to communicate efficiently within your telecom infrastructure.
Why Should I Switch to VoIP?
With VoIP, you can allow your networked locations to be on the same platform, allowing for some great benefits:
Internal Extension Dialing – don't let a few hundred miles get in the way of efficient communication.
Reduce Overhead – do all of the organization's locations have a receptionist on staff to forward calls within their location? With VoIP, only one is needed to act as the central hub to redirect across the infrastructure, anytime, anywhere.
No Long Distance Charges! – Do you like saving money? We sure do! Bridging your plants together over a VoIP network will treat all internal calls as local, lessening the constantly-accruing Long Distance charges that you see on your bill each month due to internal company dialing.
Still not on board? One feature that is often overlooked, but can save you BIG TIME is the benefit of Disaster Recovery across multiple locations. If a plant suffers an emergency and loss of communications, no problem. VoIP platforms allow for the automatic routing of calls via failovers, meaning another team or location of your choosing will receive the call – guaranteeing your clients can always get the communication they need.