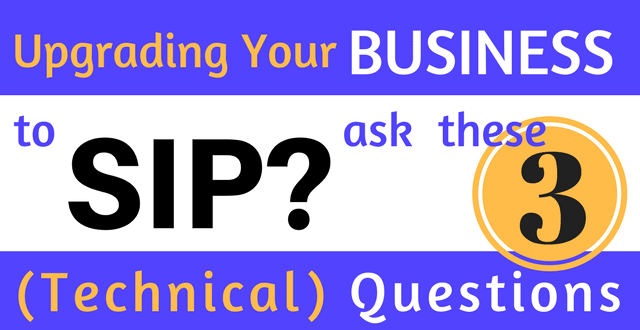 You know the benefits of upgrading your phone system to SIP are many: greater reliability and flexibility of features just to name a few. So now that you're ready to begin the switch from your outdated copper line service to SIP, what are some of the top questions you need to consider?
Familiarizing yourself with these topics is a good idea, though ultimately the provider you choose will talk you through everything required to upgrade. Bare in mind we are approaching this topic from a technical standpoint, but don't worry—we'll keep the jargon to a minimum.
When planning an upgrade to SIP, here are 3 questions that need answers:
1. Is your PBX SIP-Enabled?
A PBX (Private Branch Exchange) is the central device of your phone system, connecting all of your phones to each other and to the main phone system. More likely than not, your PBX is hanging out in your company's utility closet.
Check to see if your PBX has an SIP or PRI port, which are shaped like phone jacks. If it has one, chances are you are good to go. Though in some cases, usually with older PBXs, these ports are not SIP enabled.
If the port isn't there, don't worry, you can still get SIP. It will just require a work-around, which a good provider will be able to pull off with ease. Usually this will involve a voice gateway, a device used to emulate the service needed.
2. How many channels does your PBX require?
Determining the number of required "channels" involves counting the number of phones you need connected, while considering factors such as the frequency and duration of calls. A good provider will be able to help you figure out exactly how many are necessary for your business. And with SIP, as we mentioned earlier, flexibility is a major plus: should your company's needs change, changes to your service can be made easily to match.
3. Does your internet provide the necessary bandwidth?
This is an important one. Bandwidth is the powerhouse for your internet. Not enough bandwidth is the number one culprit when it comes to sluggish internet.
Since SIP runs using the internet, the reliability and speed of your internet are important. If you're lucky, your phone provider will also be your internet provider, and they will be able to quickly discuss and adjust your internet to meet the requirements of your new phone system.
How much bandwidth you need, whether 10mpbs or 100mbps, depends a on your company's size and volume of calls, as well as what else your internet is being used for and how heavily.
Obviously there are many other things that need to be considered when planning an upgrade to SIP, but we thought these 3 make a good starting point (as well as a reasonable-sized article). If you are interested in discussing these questions further, or would like to delve deeper into the topic of updating your business to SIP, we are here to talk. With all of the benefits provided by SIP, many companies have already made the upgrade. Start planning yours today!