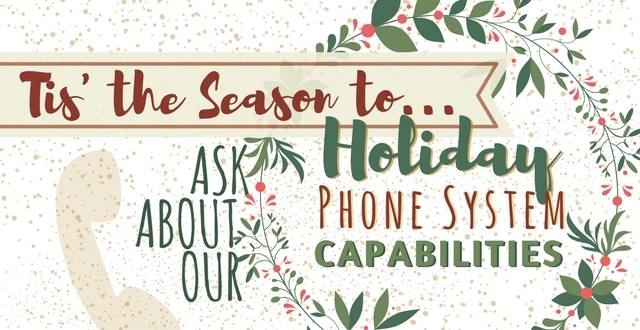 Tis' the season! With the holiday season often comes erratic office hours. Is your phone system capable of managing your holiday schedule? Ohio.net VoIP telephone systems provide the feature of customizing your phone schedule.
What exactly does that mean?
Let's give you a quick run-down. Having the ability to implement a custom schedule can be great for your business. This allows you to set up recordings for the holidays, so your customers can be notified of any important news or information. Additionally, you can actually change the way your incoming calls can be directed on specific dates or times. No more customers getting confused by sitting on the line when your team has already left early for the holiday!
So let's summarize some of the items that may be changed:
– Recording of a custom holiday greeting
– Recording with notification of specific dates or times that your business is unavailable
– Schedule of dates or times in which your incoming calls are directed elsewhere
How does that benefit me?
Have you ever attempted to call a business during their standard business hours – multiple times – just to find out later that they closed early that day? It can be very frustrating for potential or existing customers to feel like they can't get in touch with you.
This is where this customization-capability really shines. There were two opportunities that could have been implemented in order to make sure the customer was informed of the situation.
First, a new recording could have been used letting inbound callers know the days or times that your business will be closed. Once a customer calls, they will know that your business has special hours for that day and may not be available.
Next, the call tree can be configured so that if you want or need inbound callers to still get in contact with someone, they can follow the new prompts. Perhaps you have an on-call emergency team in place during the special holiday hours when your business would normally be open, or you would just like them to be forwarded directly to a voicemail box. Either are possible with this feature, which is why we make sure our Ohio.net VoIP telephones all have this feature available.
Our goal is to ensure that your business runs smoothly during the holiday season, keeping both you and your customers satisfied. If your current phone system doesn't have this feature, get in contact with us at sales@ohio.net and we would be happy to discuss some of the other features that Ohio.net offers.