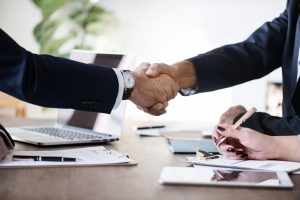 Small businesses are the backbone of America. However, one of the biggest challenges a small business owner faces is keeping up with its larger competitors. These big businesses, with their large marketing budgets and purchasing power, can easily overshadow small businesses, both physically and digitally. While it may seem like small businesses are fighting an uphill battle, a small business can compete with its larger counterparts by creating an amazing customer experience. A key component to creating an exceptional customer experience is by having the latest communications technology to connect with its customers and retain them. Below, learn the 5 reasons small businesses choose VoIP systems for their communications and why your business should make the transition.
Premier Features and Benefits – Small businesses can often feel like the underdog in comparison to their larger competitors. While they may be smaller in size, customers still want them to provide first-class customer service. VoIP levels the playing field in terms of communication with customers and suppliers and gives small businesses the same competitive advantage as their large counterparts at an affordable price. VoIP platforms include premier features and benefits in an affordable package.
Cost Savings – The affordability of VoIP technology and the value the technology gives to small business owners is one of the many reasons VoIP has been so widely adopted by businesses both small and large. Small businesses who switch to VoIP see their monthly cost for their phone system as well as routine maintenance decrease significantly! Unlike with traditional phone systems, businesses who purchase VoIP are not purchasing a physical phone system that requires consultants and service contracts.
Businesses only need to purchase individual VoIP phones and then connect those phones to the hosted VoIP provider using the same internet connections they probably already have. Long gone are the days of having to purchase new phones and hardware every few years or fees for adds, moves, and changes. Once you buy a VoIP system, upgrades and maintenance can easily be done remotely by your VoIP provider, saving your small business time and money!
VoIP Allows Small Businesses to be Nimble – Small businesses need to be nimble and able to adapt to what the market dictates. VoIP allows small businesses to add or remove phone lines with ease. Since your phones are connected to a cloud-based system, your employees can be connected to their phones regardless of location! This allows your small business to grow in the most cost-effective way. Want to launch a work from home employee base? You can easily do that with VoIP and your customers will never know the difference.
Additionally, your business can move business locations with zero downtime with VoIP. Simply move your phones to your new office, reconnect to the internet, and you're in business! During the move, you can forward calls to cell phones or even keep calls coming from your old location until you're ready to deploy at your new location.
Investing in Technology That Will Last – A big concern with small businesses when considering investing in new technology is choosing a technology that will last. Many small business owners are concerned that they will choose a technology that will become dated or even obsolete in a short amount of time. With VoIP, your phone system and features on the cutting edge and certifying the newest VoIP phones on their platform.  As time goes on, Ohio.Net will improve your capabilities and features. As their phones age or are damaged, they can easily be replaced with newer models and your other phones that are still working can continue to be utilized! VoIP is a safe technology investment that small businesses can rely on.
What Small Businesses Get with VoIP— Small business with VoIP systems receive premier features, significant cost savings, flexibility in moving, changing, and deploying systems, and avoid purchasing technology that will become outdated or obsolete!  Ohio.Net will program your phone systems features to improve your communications both in your office and remotely. VoIP gives small businesses a competitive advantage, helping them thrive and succeed in the market, both today and in the future.
What are you waiting for? Now is the time to invest in VoIP. Click the button below to get started and an Ohio.Net will be in contact with you shortly!