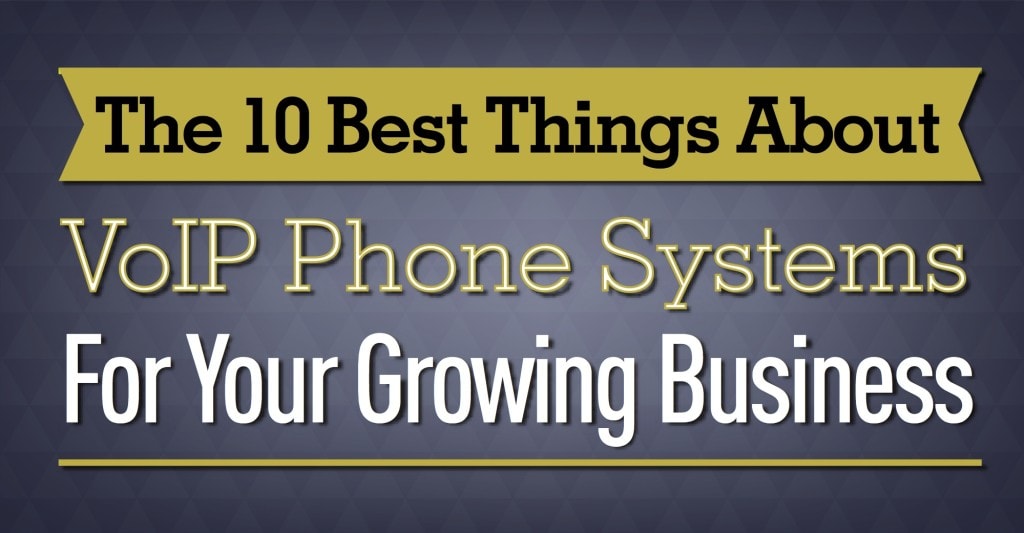 Businesses often struggle with how to allocate funds for telecommunications, a catch-all term that typically encompasses their telephone system and IT systems. Take a look at these ten benefits to consider when integrating telephones and IT systems together with Voice over Internet Protocol (VoIP) technology.
1. One Bill
VoIP provides voice communication (telephone conversations) over the same path as data or Internet communications. One benefit to this is both services can be bundled into one bill from one provider. Services can be provided by different vendors, but it is usually more efficient to purchase both from one provider and not have to deal with separate payments.
2. It's Cheaper
Purchasing a separate phone line that does not travel over a data connection can run at least $30 per month, while a VoIP provider can provide base pricing around $22.00 per month, providing a savings of at least thirty percent. The actual VoIP service can be provided as a hosted service (in the Cloud) which prevents the hardware and local administration costs of a traditional private branch exchange (PBX) system. At a minimum a PBX system requires a couple pieces of telephone equipment to be installed and maintained as separate facilities from the IT systems.
3. Mobility
Many new or growing businesses try to save money using a partial or fully virtual work force. A VoIP phone system provides employees the benefit of using a business's phone system from anywhere in the world. Employees can use the business line from their home, small office, or on the road, using their own phone or softphone.
4. More Native Features
Many valuable features inherent to VoIP systems are not offered with traditional business phone systems. Find-me/follow-me features, automated call routing, and conference calling are native to VoIP technology. So, the provider doesn't have to incur and pass on the expense of such services to you. Other features include:
Mobile apps
Call-recording
Easily accessible call reporting and tracking
Web integration and management
Voicemail to email
5. Easy Administration
The cost to train telecommunications experts is cut, or at least reduced, with VoIP. All VoIP administration features, like adding lines and switching users are managed from a very simple administration website, which is accessible from any computer and most mobile devices.
6. Faster System Changes
With a VoIP phone system, the dreaded "wait window" is eliminated. Businesses no longer have to cut part of their work day waiting for a service technician to come install wires or "wait and check" every few hours for a switch to be flipped in a central office for a new line to become active or a new employee to get their service. All features are easily managed from anywhere in the world.
7. Revenue Generation and Expense Predictions
Part of the reporting features of VoIP typically include predictive services to enable managers to see if adding, moving, or eliminating lines will provide any cost decreases or revenue increases to their bottom line. This is especially helpful for companies looking to ferret out inefficiencies.


[divider scroll]

Get our Free E-Book!

Gain in-depth insights into the importance of keeping your phone system instep with your business' growth. This free e-book covers how VOIP provides "Scalability" to you phone system, allowing you to adapt to your business' ever-changing needs easily and cost effectively.
8. Number Portability
A specific area code can encourage an increase in business for a growing company. In many secondary markets, customers will not answer their phone if they do not recognize the same area code as theirs. This works both inbound and outbound…
9. Remote User Capabilities
With VoIP, employees can become part of the phone system from anywhere in the world. For example, if your company is based in the Northern Virginia area code of 703, an employee in Japan can make and accept calls as part of the company.
10. Disaster Recovery and Continuity of Operations
In the event of a natural disaster, an office move, or simply a lost phone, a Cloud-hosted VoIP solution enables employees to use their business line from any other device with the simple click of a mouse. Even in the event of a power outage, businesses don't have to worry about power being restored to telephone equipment in a home office or headquarters in order to maintain phone service.
So, when dealing with the decisions of starting or growing a business, the biggest advantages to VoIP over traditional phones systems are lower costs, easier administration, inherent mobility, and continuity of operations, just to name a few.
If you have any questions about VoIP for business, or how you can improve your current phone systems, call us at 888-881-0805.