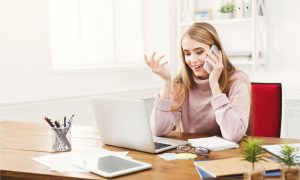 Many business owners may wonder whether they need a business phone number, especially if things are going smoothly operating the business using their mobile phone. And the truth is, it depends. Some businesses can operate effectively using a regular cell phone plan, at least in the beginning. But as your business grows and expands, a mobile phone may not be the best way to take business calls and manage communications.
It's always worth considering alternatives. Does a cell phone fulfill your business' needs? Is it an appropriate, consistent, or scalable way to do business? Or are you looking for something more professional, secure, and cohesive?
According to Alex Desberg from Ohio.net, "A lot of businesses are already paying for a phone system for their small business. The question is, are they getting the value out of what they're spending today? So in many cases, we're not asking businesses to spend any more than they're investing right now. But we are expecting to get more out of what their investment is providing the business."
Is it better to only use mobile phones for your business?
Ease of access and mobility may be tempting, but there are many disadvantages to using only mobile phones for your business, including:
Expecting employees to use a personal phone for business opens them up to countless interruptions when they're off the clock. Phone calls coming in on the weekend or when the employee is on vacation, it's intrusive and stressful.
Ease of communication. Employees don't have the ability to transfer calls to other people on staff, which can lead to gaps in communication and even lost sales. If a client needs to speak to another person on the team to close a deal, transferring them directly to the person is much easier than expecting them to hang up the phone and call a second number.
Company-owned cell phones are tedious. Although providing staff with a company cell phone seems like a great solution, they can be significantly more expensive than other business phone options. Plus, some employees find carrying around two cell phones inconvenient and still does not provide additional benefit.
Can I combine business phones with cell phones?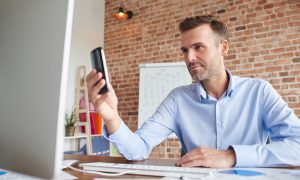 Yes, using voice over internet protocol or VoIP. There are many VoIP providers out there, like RingCentral, 8×8, Ooma, Grasshopper, Google Voice, and, of course, Ohio.net. VoIP solutions are often more affordable and flexible because they support phone calls on many platforms in the office, desktop apps at home, or smartphones wherever you are.
Desberg elaborates. "So, a good business phone system has the ability to track down an employee, a worker at the office on their cell, or give some specific information about what should happen after hours actually improves the communication. After hours, when an employee doesn't want to talk to a customer, they can design the system to manage it by the time of day or just silence their phone."
Why should businesses choose a business VoIP phone service?
VoIP phone service provides the consistency of a business phone with the flexibility a cell phone. You can answer calls wherever you are, whether you're sitting at your desk, on the road, or working from your kitchen table. Every member of the team should have their own extension, making it easy to transfer calls or utilize a receptionist to field and direct calls for you.
VoIP connections are secure, protected by encryption, and extremely reliable. Speech is much more efficient than text or email. Sometimes, customers need to speak to someone, coworkers need to collaborate, and deals need to be made. A secure, reliable phone system is essential, and a VoIP delivers consistent quality to support your business.
As Desberg says:
Traditionally, you would have to buy your own large, expensive platform that's installed at your business, a premise-based phone system. So essentially it is a one-off investment where you're buying all of the features that go into it, just so that you alone at a single location can use it. The technology now allows VoIP providers to have an economy of scale and all of those features can be offered across all of your employees regardless of geography. And you just pick and choose the 10 or 20% of the features that you need the most for your business. And that's what you use.
How much more affordable is VoIP business phone service?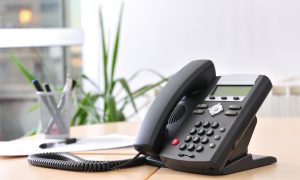 It depends on what your business needs. There are a lot of options with VoIP.
Desberg explains, "Cookie cutter, inexpensive we all know. Fitting a scenario, if you just need something that is so, so plain, so cookie-cutter that it might work fine for your organization, then that might be the solution for you. Most organizations want something specific and customized, historically customizing your phone system has been expensive but necessary in business. Now it's not so expensive. And… expected to be almost vital to business."
Final Thoughts
When it comes to your business phone, it's worth investing in a VoIP. For some businesses, it's possible to run purely on cell phones, but it's not always ideal. Your customers expect something more professional, cohesive, secure, and clear. A VoIP gives you that and makes it easier to scale up and adapt to the ever-changing workplace.
If you're looking for a VoIP, we know that choices can be overwhelming. There are many companies out there claiming they do it better than anyone else. But Ohio.net has a lot to offer. Why Ohio.net? Desberg explains:
When a lot of the national, discount VoIP providers get you started and say you're on your own after that… That's not how we work. We can creatively craft as system that works for you, a process that makes it easy to communicate with you and a disaster recovery plans. So, if any of that needs to change as your business grows or events happen, on an as-needed basis, updates happen generally on a one-call solution. Systems updates, changes, and disaster recovery is a one-call solution. That's a big deal.