Finding the right collaboration tool for your nonprofit organization is important, especially at a time when so many teams are working remotely for the first time in their careers. The additional costs of remote work can grow too large for many nonprofits, while others struggle with project management and task tracking in the absence of face-to-face communication.
The nonprofit sector relies heavily on volunteer hours and fundraising – which are both very difficult to manage remotely. Nonprofit leaders equipped with the right collaboration tool kit can ease some of that management strain, and keep their organizations moving forward.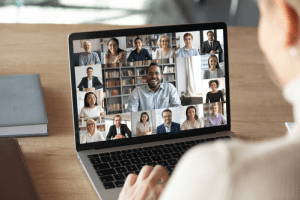 Finding Affordable Communication and Collaboration Tools
Telecom Services
Despite operating on a smaller budget, Nonprofit organizations often pay more than their commercial counterparts for basic services like phone systems. Charities and nonprofit organizations are in the business of serving, and they don't often negotiate for discounts as hard as they could. It's time for nonprofits to work on their acuity when it comes to making deals and saving money. The telecom industry is happy to take a higher percentage in profits from a non-profit agency that doesn't challenge the cost of a contract. It is important to shop around to pay the right amount for the right service.
Smaller nonprofits often try to skip telecom costs entirely by relying on the personal service plans of their volunteers and employees. This means that some volunteer is simply using their cell phone to do non-profit work.
This is a bad idea, as it blurs the line between personal and volunteer work – they can be contacted by anyone at any time without healthy boundaries. We all know that there is always somebody with an emergency somewhere, and a volunteer using their personal cell phone is likely to get caught dealing with things they shouldn't have to. That is unfair. The nonprofit model may rely on volunteers, but it owes them the courtesy of making sure the organization doesn't abuse their willingness to help.
Volunteers using a personal phone is also a hindrance to an organization because that phone is not part of an internal communications system. It is not part of an appropriate way to communicate within the team or outside it. When a caller reaches a person's personal number, there is no way to transfer the call to someone else or find support for the person without them having to hang up and redial. This is similar when using home computers that are not part of a business intranet. Personal phones and computers are problematic when the volunteer leaves the organization. You have a gap in how people get in touch. Business is halted between the person getting in touch and the company.
These phone issues can be combatted by using technology that allows volunteers to stop their work at a set time of day. There are tools that Ohio.net builds for clients that allow them to shift or turn off. After a set time, callers are not going to reach individuals anymore, they can reach a helpline or support or even another non-profit that works beyond those set hours. You can direct the right need to the right place at the right time. It allows volunteers and employees to define their real-world clearly from their volunteer and work world.
A paid – but firmly negotiated – telecom plan is your best option for managing phone services. But phone service shouldn't be your only collaboration tool, or even your most used one.
Digital Tools
Digital tools are essential for maintaining effective remote communication with your employees, volunteer team, donors, and community.
Well before the era of widespread remote work, nonprofits took advantage of free social media accounts to better stay in touch with their community. Your social media platform is now more essential than ever, and it's time to step it up a notch. A strong social media game gives you a strong foot forward in donor management.
While you could technically use those same free social media platforms for team communication and task management, you probably shouldn't. Facebook and Discord groups aren't designed for focused work – they are designed to keep you online and distracted. You need something designed for project management. Thankfully, options abound. You just need to find one that's affordable for your team size and offers the toolset you need.
The essential components of any remote work collaboration tool are a simple chat feature, task assignments, individual emails, a synchronized calendar, video conferencing, and shared file storage.
Ideally, you want all of these tools in a single resource, like Microsoft Teams. Of course, that kind of convenience comes with a price tag. Access to premium project management software tools requires a monthly or yearly subscription fee per user. For a nonprofit operating on a limited budget, that's not always possible.
You can save money by spreading out these essential features across a couple or several free or low-cost software applications.
The free version of Evernote is excellent for task management, while the paid Evernote Business plan provides a full set of team collaboration tools. Using the free version for volunteer management is a smart use of resources, however, the subscription fee difference between the paid plan and Microsoft 365 business isn't very high, so if you also need the premium Office applications to operate a Microsoft plan might still be more cost-effective.
Google Doc is a fantastic free tool for saving all your files in a shared folder. Since it also comes with easy-to-use essential apps like Google Docs, Sheets, and Forms, most nonprofit organizations can get away with using Google apps for most of their documents – avoiding an expensive Microsoft subscription altogether. You're marketing department will still need more advanced publication tools, but for most members of your team, the simple apps Google offers for free do the job well enough.
The free access Google ecosystem also has an app for video conferencing and chats. Google Hangouts offers quick and easy team collaboration with no subscription required.
If you have a larger organization and need something more professional than a patchwork of free apps, but also can't afford to pay a monthly per-user subscription, Basecamp is an excellent alternative. It is a complete project management toolset with everything you need in one place.
The premium business plan for Basecamp grants access to unlimited users. There is no per-user fee – just a flat monthly rate. The monthly rate is high though, so the premium plan only makes financial sense for mid to large-scale nonprofit teams. if you have fewer than 20 staff and volunteers you can opt for the free plan. It has limited projects and storage space, but for smaller teams, this shouldn't be an issue.
Final Thoughts
Non-profits actually don't always know what collaboration resources they have to keep their remote volunteer base online and engaged. Free online basics like Google Drive or Google Hangouts will keep you afloat, but professional paid tools prove their value with better task management and engagement.
Ohio.net is a company that can help put telecommunication plans in place in an affordable way. They regularly pull 4 or 5 phones out of their stock to tune-up, clean and donate to a non-profit organization when there are desperate needs. Upgrading even in simple ways moves the non-profit from working off their cell phones and single landline to a complete phone system including a conference phone with very little if any cost. It's not about getting things for free as much as it is managing long-term costs efficiently through collaboration.
Is Poor Tech Holding Your Non-Profit Back?