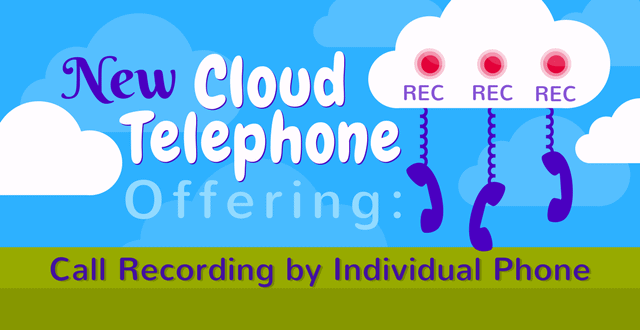 Call recording can be an invaluable feature for training purposes, retaining important call information, and monitoring your staff to ensure customer satisfaction.
Ohio.net customers can now take advantage of call recording on individual phones using the Cloud Telephone Platform. Newer Polycom VVX model telephones (Model 500 or newer) can now be enabled to utilize call recording features on individual phones.
What is the difference between individual recording and system recording?
Unlike full system call recording, which records and catalogs every call on your Cloud PBX (independent of phone type), the newer Polycom VVX desk phone models can allow call recording that is private and user controlled. Simply by turning on the service and adding a local USB drive to your phone, individuals can have the direct call recording feature just a button push away.
Users can record, stop, and playback via their phone's interface to have complete control over their recordings (in accordance with any necessary state laws).  The phone even identifies how much recording space is left on the USB to help prevent calls from not being recorded. Once enabled, the call recording feature can be turned on during any call at your discretion. Sounds simple enough, right? Let's discuss how to get started.
How do I start the service?
You will need two things to happen for call recording to be enabled on your phone.
Contact Technical Support – We will have the service enabled on your phone. You will need to be an authorized administrator of the system as there is a fee.
Add a USB – Plug a USB drive into your phone to store recordings and follow the on-screen prompts to begin recording calls.
We recommend making a test call first in order to learn how to record calls. Just to get a feel for how it works. You wouldn't want to disrupt an important call while trying to get the hang of recording, of course. If you run into any issues or need assistance, our Technical Support team is always just a phone call away!
Don't have any newer Cloud phones? No problem!
So, you're probably wondering: Do I need to upgrade all my phones?
Since this is a service offered by individual extensions, any changes you might want to add only require that the user has the right model phone. Any phones that you would like to have call recording available on would simply need to be the correct model (Polycom VVX 500 or newer). If you currently do not have any of the newer models, or are not on the Cloud platform, feel free to contact us to discuss your options!