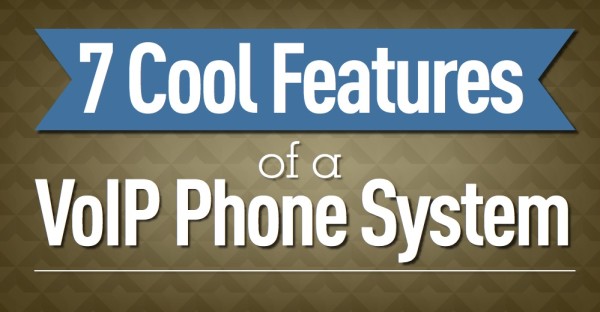 There are several benefits to upgrading your business phone system to VoIP technology. From its affordability to its flexibility, a VoIP phone system can help your business do more with less.
Here are seven of the coolest features you can put to use.
1. Voicemail to Wav
A VoIP phone system allows users to convert voicemail messages and have them sent through email. This provides your team with the voice message in a format they can save forever. No more saving names or numbers in your voicemail inbox.
2. Auto Attendant
The auto attendant is really the backbone of any incoming line for your business communications. Callers will direct themselves to where they need to go, which frees up time for employees, causes less hassle for people on both ends of the line, and also projects a big-business feel to customers.
3. Time of Day Responses
Automated responses can also kick in on their own based upon different times of the day and days of the week. The auto attendant will help callers direct themselves during business hours. When the office is closed, an automated response can switch to an out of the office or off hours message.
4. Do Not Disturb
Do not disturb functionality with a VoIP phone system allows your team to set up their own line to funnel calls straight to voicemail. This way they won't receive incoming calls and have to listen to their phone ring in the middle of an important meeting or while focused on a task.
5. Call Presence
All users connected to the business phone system will be able to see who is available, who is on a call, and who has set up their do not disturb. With everyone in the office connected, it's simple to see who's available for a quick discussion or to take a client's call.
6. Click-to-Call
Click-to-call functionality allows users to see a phone number on a website or in an email while browsing from their computer or phone and click it to call. No more manual entry and no more trying to remember various numbers.
7. Bring the Number Anywhere
One of the coolest features of a VoIP phone system is the ability to take a number anywhere. A business number can follow a person home, on the move, off-site, or even on vacation, allowing for seamless connectivity at all times.
Want to learn more about how a VoIP phone system can help your business communications? Call us today at 888-881-0805, or contact us here to discuss the many options available.



[divider scroll]

Get our free E-Book!

Gain in-depth insights into the importance of keeping your phone system instep with your business' growth. This free e-book covers how VOIP provides "Scalability" to you phone system, allowing you to adapt to your business' ever-changing needs easily and cost effectively.