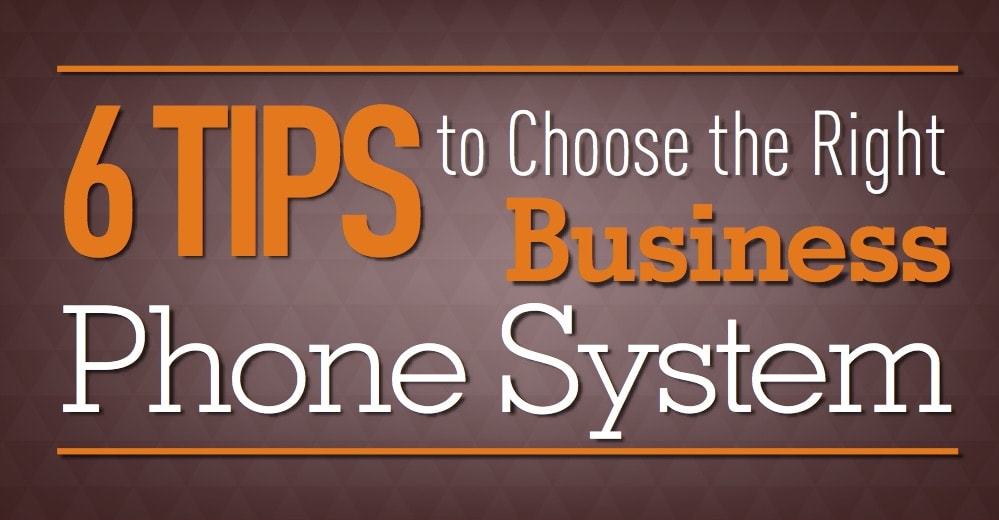 For business owners and managers looking for ways to improve business communication, keep on top of technology, and stay efficient, choosing the right type of phone system is essential. Luckily, there are options available today that can provide an immediate impact and raise a business's productivity and profitability at the same time. Keep these 6 tips in mind when choosing your business phone system
1. Look Ahead
When making any investment into a business, it's important to not only consider the here and now, but to look ahead as well. If there are realistic and expected growth plans in your future, the phone system purchased to meet the needs of 20 people and one office should be scalable and flexible enough for 40 people and two offices, and beyond. Be sure your business phone system is scalable.
2. Remember Integration
What kind of business communication systems and other technology are currently in use? Will your new phone system be able to effectively integrate with those, or will it replace them altogether? Make sure there are no conflicts that may cause headaches down the road due to incompatible technologies.
3. Think About Your Remote Workforce
Today, a business's office can be spread across the country, or in the homes of its employees. Teams based in different locations might need to collaborate from across the state, country, or even the globe. Make sure to choose a business phone system that offers remote and diverse geographic capabilities to enable work to be done effectively by all people, from all locations, and at all times.
4. Know the Essential Features
Different business phone services may provide a range of varying features. So what are the most essential must-haves for your business? Is it call conferencing, low-cost long distance calling, or call queue and auto attendant functionality? Prioritize a list of features and make sure to find a system that can satisfy those requirements.


[divider scroll]

Get our Free E-Book!

Gain in-depth insights into the importance of keeping your phone system instep with your business' growth. This free e-book covers how VOIP provides "Scalability" to you phone system, allowing you to adapt to your business' ever-changing needs easily and cost effectively.
5. Consider the Cloud
When most people think of the cloud, they're still thinking about remote desktop computing. But the cloud can host certain VoIP phone systems, enabling companies to forego the need to invest heavily in on-site infrastructure.
6. Think About Day-to-Day Usage
A new business phone service could consist of the most powerful and high-tech solutions on the market, but if nobody is able to figure it out, or put it to use in the way it's meant to be on a day-to-day basis, then it's useless. Business communication should be intuitive and streamlined, and phone systems should be easy to understand and easy to customize.
Looking to improve your business phone system? Call us today at 888-881-0805, or contact us here to discuss the many options available to your business.