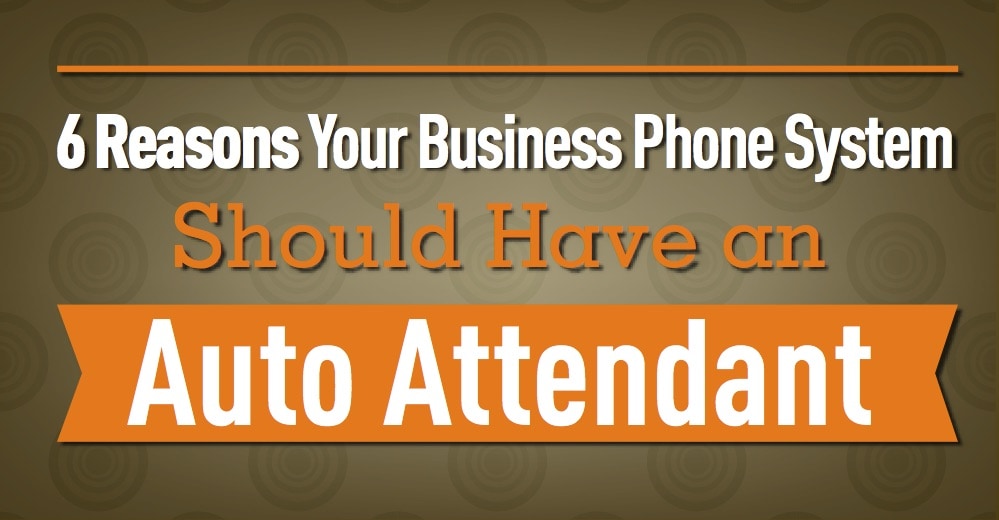 There are many different features and capabilities a new VoIP business phone system can provide. These new VoIP systems are designed to help streamline a range of everyday processes, while allowing organizations of all shapes and sizes to enjoy smoother, more efficient, and more effective communications. Here are 6 reasons and auto attendant is a must-have for your office.
1. Improve Efficiency
When one or more employees spend all day answering the phone and directing calls, they're not being used as efficiently and effectively as they could be. Allow those tasks to be handled automatically without staffing, and free up your team to do work that actually requires and benefits from their input. It frees up invaluable employee time for productivity.
2. Accurate Call Handling
Given the choice, about half of your callers will choose an auto attendant. There are no mistakes with auto attendants. Callers don't get lost because they were sent to the wrong department, and they are less likely to be kept on hold too long and forgotten about. Callers direct themselves, and the auto attendant sends them right to their desired destination.
3. Off-Hours & Weekends
An auto attendant allows your business to set up different messaging for hours outside the scope of normal operations, including weekends and holidays. You can set these up in advance, and they'll be automatically deployed at the appropriate time. There is no need to worry about continuing to set it up, turning it on or off, or losing business because callers were lost during off hours.
4. Improve Company Presence
For a growing business, it can be important to project a greater sense of size to callers. An auto attendant system does just that. It tells callers this isn't a small-time operation; this is a major enterprise with lots of moving parts and they have made the right decision doing business with you.


[divider scroll]

Get our Free E-Book!

Gain in-depth insights into the importance of keeping your phone system instep with your business' growth. This free e-book covers how VOIP provides "Scalability" to you phone system, allowing you to adapt to your business' ever-changing needs easily and cost effectively.
5. Direct the Customer/Caller
When your goal is one call completion, the benefits of a business phone system with auto attendant capabilities are also seen in the impact on the caller. An auto attendant will enable your callers to be directed to the exact person or department they are trying to reach. This eliminates guesswork and aggravation for them, and ensures they're able to find the information or answers they were seeking as easily as possible.
6. Improve Wait or Hold Time
Another benefit for the caller is a reduction in waiting or holding time. There are fewer steps in the process, and no one has to be manually tracked down. Instead, the auto attendant quickly directs the caller to their destination with a minimal amount of time lost.
With the ever-growing variety of communication features available to your company, it can be tough to decide which are the most important. Having an auto attendant for your business phone system should be at the top of the list.
Want to learn more about how an auto-attendant can improve your business phone system? Call us today at 888-881-0805, or contact us here to discuss the many options available to your business.