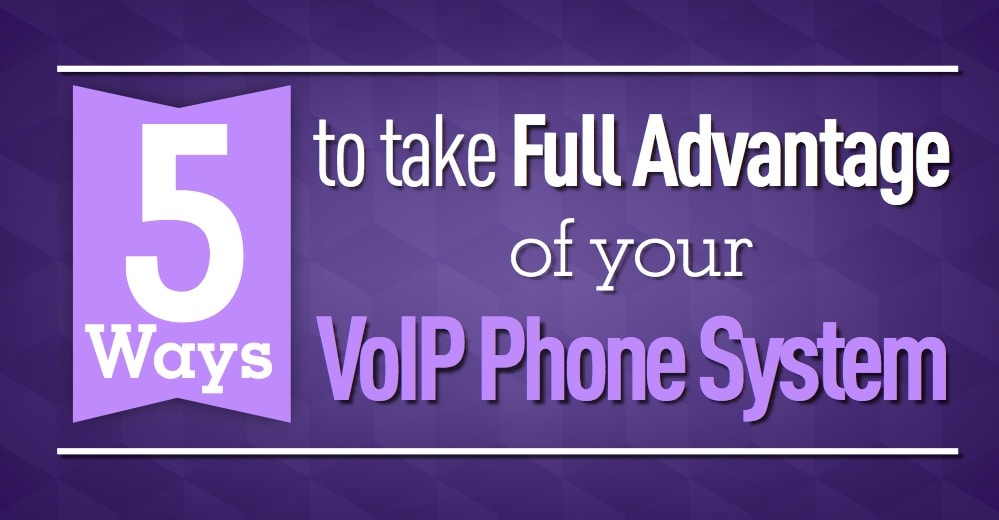 It's one thing to make the switch to a new VoIP phone system for your business communications; it's another to really put that technology to good use. VoIP is loaded with wonderful features and capabilities, so why not make the most of them while ensuring the full benefits are being enjoyed?
Here are some of the best ways to take full advantage of a new VoIP phone system.
1. Auto Attendants
Utilize auto attendant functionality and allow callers to select where they should be directed on their own. This can free up time spent answering calls for your employees, enabling them to focus on other tasks.
2. Holidays & Schedules
Seamlessly close the office down thanks to automatic response scheduling based on hours of the day or days of the week. Customers will receive predetermined messages when your business is closed with little extra effort.
3. Office Synergy
Call presence functionality and do not disturb functionality allow for true office synergy. Instantly see who's already on another call, or who's tied up, and let colleagues know the same, too. Don't misdirect callers or leave them waiting, and don't burden colleagues when they aren't prepared. The entire office will know who's available or not.
4. Prioritize
Keep track of inbound and outbound calls and messages with queues. Don't lose track of who needs a callback or who's been waiting. Prioritization helps any day run more smoothly and efficiently, while ensuring that nobody gets overlooked.
5. Work from Anywhere
One of the best features of a business VoIP phone system is the ability to utilize the number from any location. Your team can work while traveling, work from home, or start a long weekend and enjoy time at home while still completing essential tasks.
If your business hasn't made the switch yet, it might be time to upgrade to a high quality VoIP phone system. Ohio.net can help with efficient, scalable and tailor-made solutions for organizations of all shapes and sizes, putting to use the great capabilities and features mentioned above. Call us today at 888-881-0805 or contact us here to discuss the many options available to your business.


[divider scroll]

Get our free E-Book!

Gain in-depth insights into the importance of keeping your phone system instep with your business' growth. This free e-book covers how VOIP provides "Scalability" to you phone system, allowing you to adapt to your business' ever-changing needs easily and cost effectively.