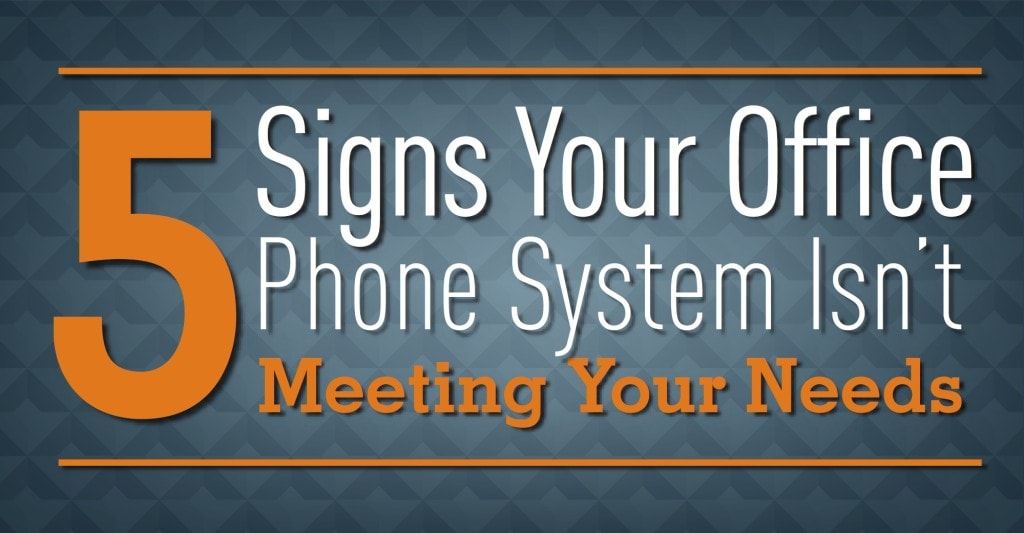 Just how personal cell phones have made home landlines nearly obsolete, Voice over Internet Protocol (or VoIP) systems are turning traditional landlines in offices and business settings into outdated relics. A VoIP phone system can revolutionize the way a company operates, and provide countless benefits that traditional landlines can't. Here are 5 signs your traditional office phone system isn't meeting your needs like a VoIP solution could.
Your Traditional Office Landline Isn't Scalable
For decades, landline telephone providers have taken advantage of small businesses by selling them bloated packages that are inflexible and unnecessary. Essentially, traditional landlines force small business owners to either pay for all the options of a package designed for big corporations or forfeit some of the features their company needs. But with VoIP systems, plans are offered that can easily grow and expand as your company does.
Upgrades Aren't Part of the Service
Old school phone providers are great at finding new ways to charge you more for their services. Although they don't occur all that often, traditional phone systems can gain new features and benefits. The problem is, you're going to pay extra for them. With an all-digital VoIP phone system, upgrades are part of the service. If a cool new piece of technology comes around, you should get it. Your provider shouldn't try to charge you for it.
Your Traditional Office Landline Isn't Mobile
The very nature of traditional office landlines means they are tied to your office's physical location. But with a VoIP phone system, you can place and receive calls from your office number from anywhere, as VoIP systems can integrate with your mobile phone. By detaching your office number from the physical location of your office, you can work more easily while traveling, work from home more efficiently, and enjoy improved overall flexibility with your phone system.


[divider scroll]

Get our Free E-Book!

Gain in-depth insights into the importance of keeping your phone system instep with your business' growth. This free e-book covers how VOIP provides "Scalability" to you phone system, allowing you to adapt to your business' ever-changing needs easily and cost effectively.
Your Traditional Office Landline Equipment Is Too Costly
Traditional phone systems can cost a fortune to maintain and update, and IT departments associated with traditional providers are notoriously unhelpful and ill informed. With a modernized VoIP phone system, you won't over spend on constant equipment upgrades and bloated installation and maintenance fees.
Your Traditional Office Landline is Unreliable
Old telephone infrastructure is very susceptible to disruption from natural disasters, downed lines, and other disturbances that can leave your business without working phones for hours or days. But with a VoIP system, you have access to your business lines anywhere that you have an Internet connection. Never worry about downed telephone poles again.
So, is your office phone system meeting your needs? Call us at 888-881-0805 or contact us here to discuss your needs and how a VoIP phone system may be the right fit. And be sure to download our free e-book, "Is Your Current Telephone System Scalable?"