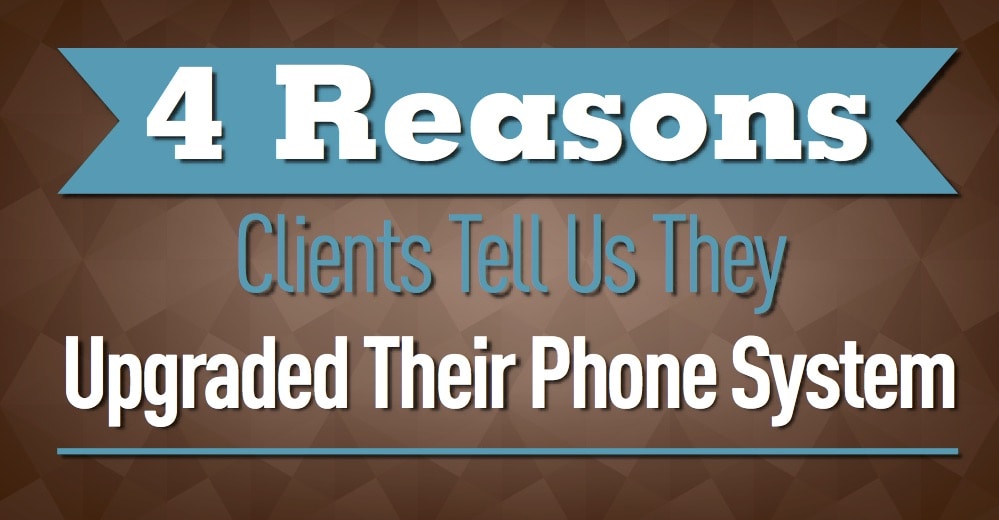 We can tell you a lot of great things about a VoIP phone system and give you a plethora of reasons to switch from an outdated phone system. Coming from us it may sound a little biased, so we asked our customers about making the switch to VoIP and working with a hosted VoIP provider.
Here is what four of those customers had to say.
Customer: Car Dealership
Reason They Switched: Flexibility
"Our business is cyclical, we like the flexibility of turning features and extensions off during the less busy times of year. It saves us money and also reduces time spent on system changes."
One of the best aspects of a VoIP business phone system is that it's always flexible. There's room to grow, adapt, and change as needed. This is great for seasonal businesses such as the car dealership referenced here, as well as any other business that wants to stay lean and avoid paying for what they don't need.
Customer: Large Nonprofit Organization
Reason They Switched: Better Support
"The staff at our Hosted VOIP company does all of our phone adds, moves, and changes. That means our IT department can handle what they're really hired for, spending time on developments that can support our cause and improve services for our clients. Now we spend far less time on supporting our internal business systems."
Hosted VoIP providers can handle the legwork of system management. As this customer found out, this can free up staff to spend more time taking care of important business tasks. Hosted VoIP providers who offer quality support and speedy service in all circumstances can help a business increase efficiency.
[divider scroll]

Get our Free E-Book!

Gain in-depth insights into the importance of keeping your phone system instep with your business' growth. This free e-book covers how VOIP provides "Scalability" to you phone system, allowing you to adapt to your business' ever-changing needs easily and cost effectively.
Customer: Small Manufacturer
Reason They Switched: No Geographic Restrictions
"We have been able to connect our plant with our remote sales offices using one VoIP phone system, enhancing our capabilities and improving our communications."
Having one integrated system for business communications is crucial. This enables offices from across the country to function as one unit. It also allows for a mobile workforce that can get the job done even when they're on the road or at home.
Customer: Veterinarian
Reason They Switched: Better Customer Experience
"We are able to allow customers to reach us any time of day for emergencies without making it intrusive on our personal lives. We now have an on-call process that integrates with our mobile phones."
A VoIP phone system can be tailored to match any business's hours and employee schedules. When the normal day is over, the auto attendant can simply take a message from a caller. In the case of this veterinarian, who needs to be on call for emergencies, they're also able to instantly forward those calls to the correct numbers to respond effectively.
Want to learn how your business can benefit from the features and capabilities that the above businesses are enjoying? Join the growing legion of satisfied customers and learn more about how we can help by calling 888.881.0805 today.